Home | Events | The Toe Incident | Steampunk | McQueen | Books | Stories | Resume | Contact
The Toe Incident

My short play "The Toe Incident" was first performed at Stage Left Studio as part of their LeftOut Festival.

And we're putting it on again this summer!
Love! Death!
And a stubbed
toe.





When you're down in the dumps and you summon your best friend back from the dead, you don't always get what you expect.




Join us!




Come and see the play!




Buy tickets now!





July 16, 2018
Dixon Place presents
The Toe Incident
"The Toe Incident" will be performed on a split bill with three other plays at the HOT! Festival at Dixon Place. Read more about our quadruple bill here!

Time: 7:30 p.m. till about 8:45 p.m.

The Dixon Place Lounge is open before and after the show, and you can bring your drink in the theater! Bar proceeds directly support DP's artists and mission.

Dixon Place
161 A Chrystie St. (between Rivington & Delancey)
New York, NY 10002
General Admission
$15 in advance
$18 at the door
Stu./Sen./idNYC
$12 in advance
$15 at the door


As with the earlier production, Simone Federman will direct and Johnathan Cedano will co-star. We are happy to announce that J. J. Pyle is joining the cast for the Dixon Place presentation. And we are super excited that Teresa Smith will be choreographing a chorus of ghosts!

Sadly Jen Browne, who performed with Johnathan in the show's Stage-Left version, will not play a role this time around. But we're also excited for her and her new projects. (Super cute baby!)
I'm honored that Barbara Hoffman wrote about the earlier production (which ran under the title "Recall: The Toe Incident") in an events round-up in the New York Post. Check it out: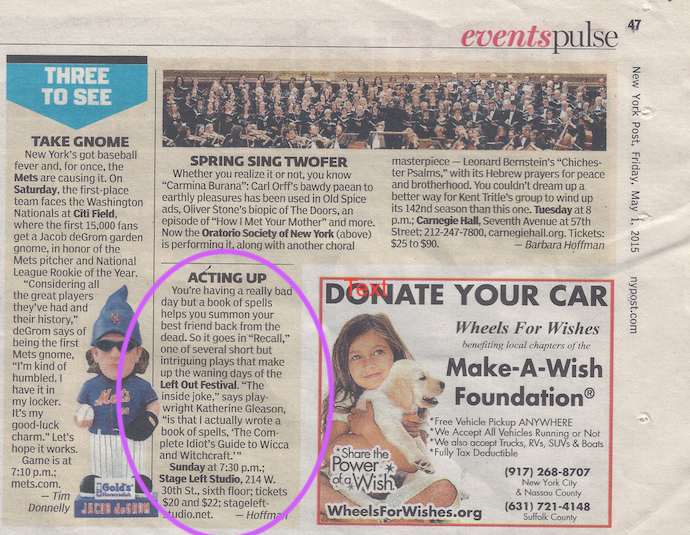 For updates, catch me on Facebook, Twitter, or Tumblr.
Katherine Gleason
Create Your Badge

Thanks for stopping by!