Home | The Toe Incident | Steampunk | McQueen | Backlist | Stories | Resume | Contact
Anatomy of Steampunk: The Fashion of Victorian Futurism










The book contains:

• More than 200 color photographs


• Inspirational profiles of steampunks from all over the world


• Step-by-step directions for ten DIY projects



Read an interview with me about the book on the Craftside site.

Here's some more info from the book's jacket:


From formal outfits to costumes crafted for the stage, from ensembles suited to adventure to casual street styles, steampunk fashion has come to encompass quite a few different looks. But what exactly is steampunk? Originally conceived as a literary genre, the term "steampunk" described stories set in a steam-powered, science fiction-infused, Victorian London. Today steampunk has grown to become an aesthetic that fuels many varied art forms. Steampunk has also widened its cultural scope. Many steampunk practitioners, rather than confining their vision to one European city, imagine steam-driven societies all over the world.

Today the vibrance of steampunk inspires a wide range of individuals, including designers of high fashion, home sewers, crafters, and ordinary folks who just want to have fun. Steampunk fashion is not only entertaining, dynamic, and irreverent; it can also be colorful, sexy, and provocative. Most of all, steampunk fashion is accessible to everyone.

Illustrated throughout with color photographs of the dazzling creations of numerous steampunk fashion designers, Anatomy of Steampunk is an inspirational sourcebook. In addition to presenting the looks and stories of these creative fashion artists, the book also details ten steampunk projects for the reader to try at home. Allow steam to power your imagination.


Designers, performance groups, and individual steampunks featured in the book include—

Airship Isabella
Ali Fateh
Belladonna Belleville
Berit New York
Black Garden
Blasphemina's Closet
Brute Force Studios
Clockwork Couture
Costume Mercenary
DASOWL
Dawnamatrix
Disabled Life Media
Edward Von Arkham
The Extraordinary Contraptions
Festooned Butterfly
Harvash
Hi Tek by Alexander
House of Canney
KMKDesigns
Kristi Smart
Kristin Costa
KvO Design
Lastwear
The League of S.T.E.A.M.
Margaret "Magpie" Killjoy
Marquis of Vaudeville
Mary Holzman-Tweed
Maurice Grunbaum
Megan Maude
Michael Salerno
The M.I.S.F.I.T.s
Monique Poirier
Morrigan New York
Ms. Purdy's
Muses Well
Nivi Hicks
Noam Berg
Painless Parker
Phil Powell
Redfield Design
RockLove
Sidharta Aryan
Skinz-N-Hydez
Spyder Designs
Steampunk Emma Goldman
Tokyo Inventors Society
Tom Banwell
Tom Keeler
Tony Ballard-Smoot
The Gin Rebellion
Won Park



I'm honored to be included in The Steampunk User's Manual by Jeff VanderMeer and Desirina Boskovich. Get your copy today and check out my essay on retrofuturist fashion.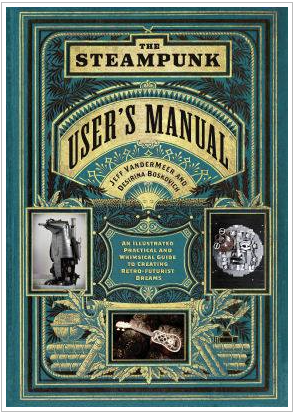 Thanks for stopping by!